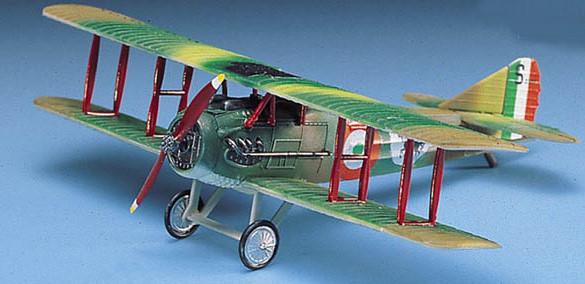 Academy Aircraft 1/72 Spad XIII WWI RAF Fighter Kit
Estimated Shipping: 2-3 Business Days
ACY-12446
---
The French-built SPAD XIII was one of the most famous fighters of World War I. While most of the fighters in use during the War used a rotating radial engine(Rotary), the SPAD was one of the first to use the more powerful and efficient liquid-cooled inline type which later became the standard power unit for fighter aircraft for many years.

So effective was the SPAD that several Allied countries used it during the War, including the United States, who had no combat airplanes of its own design in the War. Armed with one or two Vickers 7.65 mm machine guns firing through the propeller arc, the SPAD was a formidable foe. Some versions of the plane carried a devastating 37mm Hotchkiss cannon mounted in the nose and firing through the propeller hub. Other SPADs carried strut-mounted Le Prieur rockets.

This model of the SPAD XIII has markings used by one of the United States fighter groups based in France.
---
Share this Product
---
More from this collection