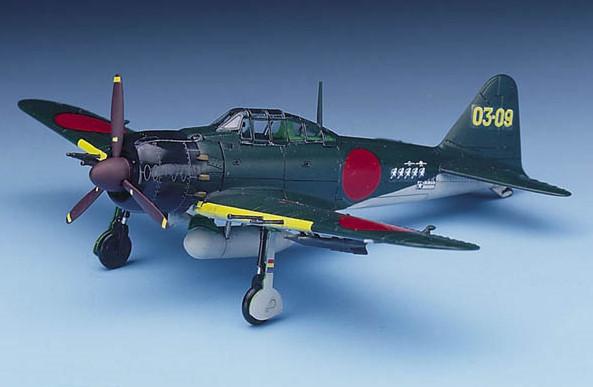 Academy Aircraft 1/72 Mitsubishi A6M5c Zero-Sen Type 52c Fighter Kit
Estimated Shipping: 2-3 Business Days
ACY-12493
---
The Zero Fighter (Reisen or Zero-Son) was the Imperial Japanese Navy's first single-seat and single-engine shipboard fighter with the retractable undercarriage. It was the most produced types of all Japanese combat aircraft of World WarII.

Designed to the 1937 specifications. the Zuisei-powered prototype flew in the spring of 1939, but the most more successful Sakae-powered prototype was adopted as the Zero type 11, and two squadrons with 15 aircraft were sent to China in July 1940 for trials under operational conditions. More than 400 had been delivered by the time the Type 21 and Type 32 appeared at Pearl Harbor.

After the battle of Midway the Allies slowly gained the ascendancy, and the Zero found itself outclassed by the F4U Corsair and F6F Hellcat. Mitsubishi urgently tried to devise improved versions and type 52 (A6M5) was built in quantities far greater than any other Japanese combat aircraft. To satisfy front line demands for increased fire power and pilot protection, most of the changes were made in these areas under the designation type 52c (A6M5c). Especially, armament was increased to an additional 13mm machine gun mounted in each wing just outboard the 20mm cannon and undrawing bomb rack for 30kg bomb.

Total production amounted to 10,937, of which 6,217 were built by Nakajima Hikoki and another ones were built by Mitsubishi Jukogyo. In late of war, hundred of Zeros of many sub-types and young pilots were converted for reckless suicide attacks, Kamikaze.
---
Share this Product
---
More from this collection