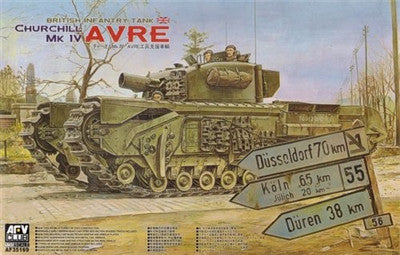 AFV Club Military 1/35 British Churchill Mk IV AVRE Infantry Tank Kit
This Product Usually Ships In 2-3 Business Days
AFV-35169
---
The Churchill AVRE series of vehicles was the brainchild of Major General Sir Percy Hobart following the disastrous Dieppe (Operation Jubilee) raid in August 1942 which saw the Churchill tanks of the Canadian Calgary Regiment decimated on the beaches due to the lack of adequate engineer support.

The result of this and Hobart's ingenuity was the creation of a series of specialized AVRE vehicles based on the Churchill Mk.III and Mk.IV chassis with the main gun replaced with a 290mm Petard spigot mortar affectionately know as the "flying dustbin" due to its appearance. The 40lb projectile contained a 26lb demolition charge with an effective range of 80 yards.

The hull machine gun was retained but the co-driver's hatch was replaced with a sliding hatch that allowed the Petard launcher to be "broken" and re-loaded from within the hull affording the loading the full armor protection during the reload.
Decals and painting guide for 4 British Army tanks:
5 Assault Regiment, 1 Assault Brigade, spring 1945
6 Assault Regiment, 1 Assault Brigade, Normandy, summer 1944
5 'Cheetah' of 5 Assault Regiment, 1 Assault Brigade, Sword Beach, June 6, 1944
'A' Armoured Regiment RE, Italy, 1945
---
Share this Product
---
More from this collection