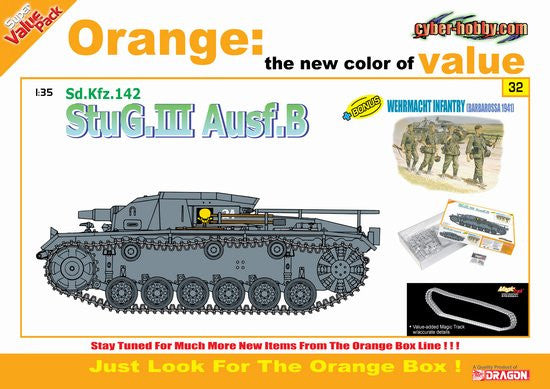 Cyber-Hobby Military 1/35 Sdkfz 142 StuG III Ausf B Tank w/Wehrmacht Infantry Barbarossa 1942 Kit
This Product Usually Ships In 2-3 Business Days
CHC-9132
---
Operation Barbarossa, the German invasion of Russia, was the world's largest ever military operation both in terms of its scale and the price paid in casualties. On June 22, 1941, more than 4.5 million German and Axis troops attacked Russia along a 2,900km front. As well as these soldiers, the enormous military undertaking involved 600,000 vehicles and 750,000 horses. Barbarossa continued into the winter of December 1941, by which time the attack had faltered at the very gates of Moscow. Russia committed 3.2 million soldiers against the initial assault, and later fed in 5 million further soldiers. One of the armored fighting vehicles that Germany made good use of at that time was the Sturmgeschütz III assault gun. Based on the chassis of the Panzer III tank, this successful vehicle eventually became Germany's most-produced AFV. One of the StuG.III variants employed during Operation Barbarossa was the Ausf.B, which mounted a short-barreled 7.5cm gun. A total of 300 StuG.III Ausf.B vehicles were built as close-support vehicles for the infantry.
The box includes a 1/35 scale StuG.III Ausf.B model kit accompanied by a set of four Wehrmacht infantrymen marching across Russia's vast steppes. The vehicle and soldiers are perfect for depicting the summer timeframe of Operation Barbarossa, a campaign that marks its 70th anniversary this year
. The 1/35 scale figure set has not been available for some time, but the marching figures are as sharply sculpted and well-posed today as they were a decade ago when they were first released. As for the StuG.III kit, it has been upgraded with new Magic Tracks. This economical Orange Box set allows modelers to recreate a typical scene from Operation Barbarossa.
---
Share this Product
---
More from this collection