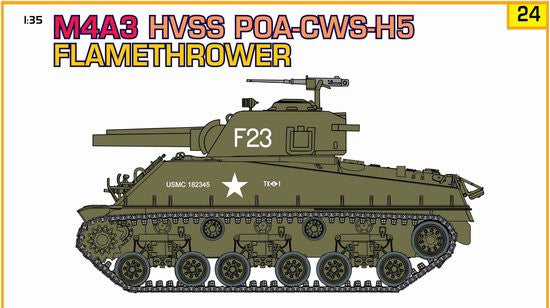 Cyber-Hobby Military 1/35 US M4A3 HVSS POA-CWS-H5 Flamethrower Tank w/Crew Kit
Estimated Shipping: 2-3 Business Days
CHC-9124
---
The Korean War, which began with a sudden attack by North Korea across the 38th Parallel on June 25 1950, was a bitter and bloody conflict that resulted in an estimated 2.5 million casualties. Battles seesawed up and down the Korean Peninsular, drawing in many countries into the conflagration. However, the USA formed the backbone of the UN force, contributing 480,000 troops during the three-year war that ended in an uneasy stalemate. The Korean War is commemorated in a new Orange Box set. The box contains one 1/35 scale tank kit and a matching set of figures.
The kit in question is an M4A3 Sherman with HVSS suspension. However, this is no normal Sherman, for it's a special flamethrower variant. Going under the nomenclature of "POA-CWS-H5" (which stands for Pacific Ocean Area – Chemical Warfare Service), this flamethrower tank developed after WWII had ended was fielded by the US Marine Corps.
This type of M4A3E8 Sherman retained its original 105mm howitzer in the turret, and a new coaxial flamethrower gun was added alongside it in the mantlet. This kit was originally released by Dragon, but it has been suitably and extensively updated with Upgraded upper and lower hulls, as well as improved HVSS suspension. These upgraded parts are sourced from Dragon's newest and most accurate M4A3 Sherman kits. The tank also receives DS tracks. The tank is accompanied by four Marine Corps figures dressed for bitter winter combat in Korea
. Wearing greatcoats, these four figures are in realistic action poses. When the sharply molded figures and new improved M4A3 POA-CWS-H5 flamethrower are combined, an instant battle scene can be created. As an Orange Box item, it also comes at an extremely attractive price.
---
Share this Product
---
More from this collection