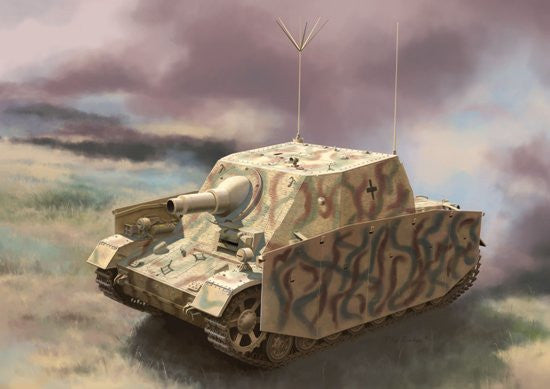 Dragon Military 1/35 Sturmpanzer Ausf I BefehlsPz Assault Infantry Vehicle Based on PzKpfw IV Ausf G Chassis Kit
This Product Usually Ships In 2-3 Business Days
DML-6819
---
Dragon has already released 1/35 scale Early-Production and Mid-Production variants of the German Brummbär, an assault infantry vehicle armed with a 15cm StuH.43 L/12 gun. Sixty vehicles rolled off the production line in November-December 1943, and they are easily identified by the lack of a machinegun in the glacis plate. Most of these were based on Panzer IV Ausf.G chassis, and were crewed by four men rather than the five of later vehicles. Dragon has now expanded the family by adding a Command version based on the same Pz.Kpfw.IV Ausf.G chassis.

This special version fitted with extra communications equipment is called the Sturmpanzer Ausf.I als Befehlspanzer. This kit features the zimmerit coating that appeared on all Brummbär vehicles built up till September 1944.

Dragon's kit features all the typical characteristics of an Early-Production Brummbär based on the Panzer IV G chassis. Of course, it includes the distinctive star antenna that identifies it as a Befehlspanzer too. The kit also features an extremely realistic-looking zimmerit coating straight from the hands of a master craftsman. The accurate, one-piece fighting compartment is made from a 4-directional slide mold in order to ease construction and save assembly time, as well as ensuring Dragon's patented zimmerit technique is sharply represented. This is a finely detailed kit, and with the zimmerit already molded on, it amounts to a command performance!
---
Share this Product
---
More from this collection