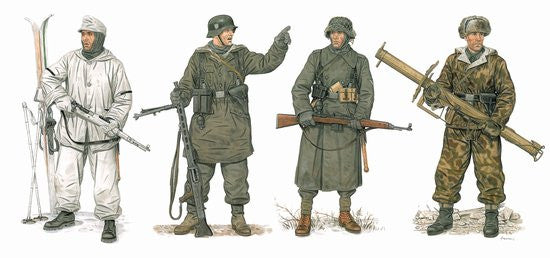 Dragon Military 1/35 German Winter Combatants 1943-45 (4) Kit
Estimated Shipping: 2-3 Business Days
DML-6705
---
Germany expected an early conquest of Russia at the time of its attack on 22 June 1941, but when the expected victory did not come as easily as anticipated, the Wehrmacht soon found itself embroiled in Russia's brutal and bitterly cold winter. A quarter of a million German soldiers suffered frostbite in that first Russian winter simply because they were ill equipped and poorly supplied with appropriate cold-weather gear. Soldiers who survived that first grueling winter actually received a medal (called the Medaille Winterschlacht im Osten 1941/42, and which the soldiers often called "Frozen Meat Order")! Every winter on the Eastern Front in the following few years was also a test of endurance. Dragon is releasing a special set of four 1/35 scale plastic figures portraying soldiers fighting and trying to survive the bitter Russian winters.
The set features four separate soldiers, each distinctively dressed and armed. They reflect the range of clothing such as parkas, greatcoats, snow suits and reversible insulated winter suits that were available to soldiers, as well as a variety of different headgear. Their range of weaponry includes a brand new Gew 33/40 rifle
, Gew 43 self-loading rifle, MG42 machine gun and anti-tank 8.8cm Raketenpanzerbrüchse. The poses are well sculpted and detail definition on the soldiers is simply superb. Their mostly static poses mean the 1/35 scale figures will be easily incorporated into "White Hell" dioramas or vignettes of the modeler's choosing. This versatile set is perfect for a wintry-themed German scene.
---
Share this Product
---
More from this collection