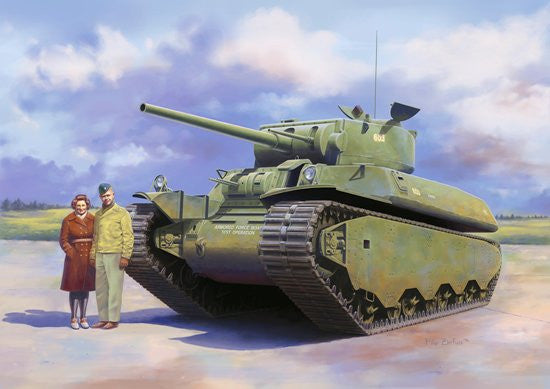 Dragon Military 1/35 M6 Heavy Tank Black Label Series Kit
This Product Usually Ships In 2-3 Business Days
DML-6798
---
Dragon's Black Label series is proving popular tanks to its coverage of out-of-the-ordinary subjects that are normally not available as regular plastic kits. Black Label previously released a kit of a unique WWII design from the USA – an M6A1 Heavy Tank, a type that dated back to late 1940. Now that particular kit (Item No.6789) has been joined by a 1/35 scale kit of its close relative, the M6. The 57.4-tonne M6 was designed as a tank able to respond to Germany's all-dominating Panzers that had previously swept through Europe in the Blitzkrieg, and approval to produce four prototypes was given in February 1941. The type proved unsatisfactory in testing, however, and in the end only eight M6, twelve M6A1 and 20 M6A2 tanks were built by Baldwin from 1942-44. The M6 had a crew of six and was armed with an M7 76mm gun, M6 37mm gun and no less than five machine guns. The M6 was distinguished by its cast hull.
The Black Label M6 model sensibly makes use of relevant parts from its sister kit, though the hull is obviously quite different. Whereas the M6A1 had a welded hull, the M6 had a cast hull, and thus a brand new upper hull appears in the box
. Furthermore, this upper hull is produced as a single-piece item to ensure complete accuracy. Indeed, the kit widely uses slide-molded components thanks to Dragon's technical know-how, making it easy to put together. It also features DS tracks for the sake of convenience. The M6 tanks produced in the early 1940s never left US soil as the design was considered anachronistic, but Black Label now makes the type available to all in this modern age!
---
Share this Product
---
More from this collection