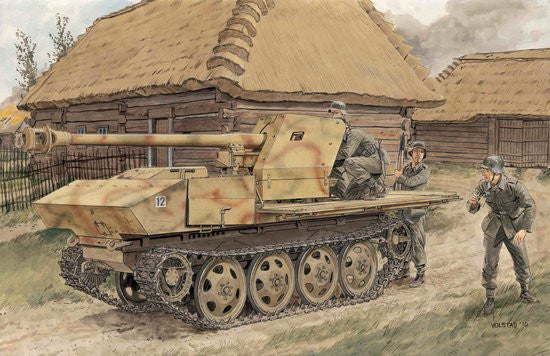 Dragon Military 1/35 Raupenschleppr Ost (RSO) w/7.5cm PaK 40/4 Gun Kit
This Product Usually Ships In 2-3 Business Days
DML-6640
---
The mud, snow and ice that prevailed on the Eastern Front were tremendous impediments to travel and mobility. This was especially true because of the poor condition of roads in Russia. To help solve the difficulty that wheeled and half-tracked vehicles had in negotiating the terrain, Germany introduced the Raupenschlepper Ost, which literally means "Crawling Tractor – East." The RSO was introduced specifically for mobility on the Eastern Front, and it typically served as a prime mover. The fully tracked chassis ran on a running gear of four steel wheels either side. Latterly, the RSO's mission expanded because of a severe shortage of antitank platforms. Thus, the RSO was eventually fitted with a 7.5cm PaK 40/1 antitank cannon. To facilitate its new function, the driver's compartment at the front was replaced with a lightly armored superstructure.

However, the weapon system overall was very vulnerable to enemy fire, despite all its advantages of mobility in treacherous terrain. The first such systems were fielded for evaluations by Army Group South in 1944, though full-scale production never really began. Instead, a mere 60 such antitank vehicles were produced out of a total of 23,000 RSO vehicles.

Dragon has produced an exciting 1/35 scale kit of this fascinating specialist vehicle. Apart from the 7.5cm antitank gun, the rest of the kit is brand new. Just like German engineers before them, Dragon was able to fit its existing gun kit onto a new platform! The chassis comes as a single component to ensure correct alignment and ease of assembly. The vehicle is actually quite small, but this doesn't mean it lacks detail. In fact, it is brimming with interior detail such as the gearbox, driver's compartment, engine and transmission. The gun platform is fully represented along with the new gun mount. The construction allows modelers to traverse the gun in any direction. The road wheels are produced to scale thickness, over which the specially designed RSO Magic Tracks are fixed.
The result is a vehicle that looks remarkably different to a standard RSO cargo variant. It is sure to be a hot item, as modelers have been waiting a long time for such a high-quality kit of this potent "tractor".
Feature:
- Hand wheels included on new gun mount tooling
- Newly designed circular base plate w/molded locking holes and pin
- Delicate and realistic new engine provided
- True-to-scale gun shield w/newly produced armored plate
- Brand new Magic Track
- Two types of travel lock included
- Cannon can be freely posed at different angles
- Connecting bracket for gun mount
- Vertical brackets for mounting circular base plate
- One-piece chassis and upper hull w/accurate thickness and details
- Accurate lower hull
- Fine pattern molded on base of tanks
- Detailed control panel for driver's compartment
- Two seats for gun platform included
- Detailed fighting compartment realistically produced
- Gearbox accurately replicated
- Side wood panels can be opened/closed for travel or combat
- Detailed suspension included
- Delicate road wheels
- Separate road wheels w/photo-etched details mounted in pairs
- Detailed flatbed realistically presented
- Ammo storage accurately depicted
- Accurate bolted-on two hook
- Transmission realistically presented
- Workable gun breech
- Three kinds of 3-D designed muzzle brake option
- Gun shield w/photo-etched detail
- Muffler w/exhaust pipe accurately produced
- Ammo case is included
---
Share this Product
---
More from this collection