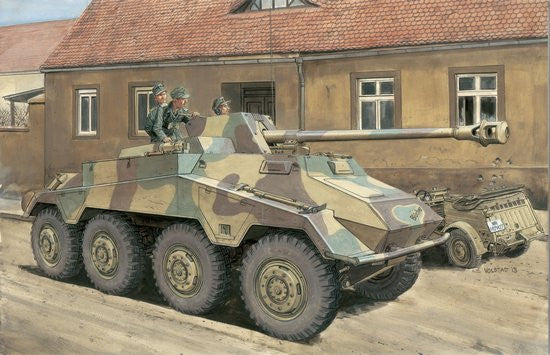 Dragon Military 1/35 SdKfz 234/4 PzSpahWg Premium Edition Kit
Accepting Back Orders - Will Ship When Available
DML-6772
---
Germany created a number of successful schwerer Panzerspahwagen ("heavy armored reconnaissance vehicles"). An important family of vehicles in this class was the Sd.Kfz.234. Design work commenced in August 1940 and the Sd.Kfz.234 had four distinct variants, the last of which was the Sd.Kfz.234/4. It is this 8-wheeled vehicle that is the subject of Dragon's newest 1/35 scale plastic kit. Reflecting the state of the war by that stage, this 6m-long vehicle was more of a tank hunter than a reconnaissance vehicle. It boasted a complete 7.5cm PaK 40 L/46 anti-tank gun installed in the open-topped fighting compartment, though the gun's traverse was limited to 12° either side. Only 89 vehicles were produced by Büssing-NAG between December 1944 and March 1945, but they were employed on both the Eastern and Western Fronts.

Some time ago, Dragon released a 1/35 scale kit of the Sd.Kfz.234/4 (Item No.6221), but it has now received the royal Premium Edition treatment. Upgrades include the addition of driveshafts and tie rods that allow all the wheels to be steered/angled, just like on the original vehicle. It also has two different kinds of road wheels for selection. This kit accurately replicates the unique shape of this hard-hitting German 8x8 armored vehicle, and the Premium Edition version makes it even more appealing and up to date.
Features:
Authentically recreated suspension and steering assembly.
Wheels made from multiple parts for maximum details
Exhaust pipe can be optionally assembled on either left or right.
One-piece upper hull complete with weld seams and bolt pattern.
Three directional slide-molded hull bottom provides superb detail.
Slide-molded side fenders for Sd.Kfz.234/4
One-piece chassis frame is slide molded to give finer detail.
Detailed spare tire mount.
Wheels can be adjusted to different positions.
Wheel hubs are finely detailed.
Wheels made from multiple parts for maximum details.
Engine deck ventilation louvers with open or closed option.
Detailed instrument panel and radio face.
Drivers vision ports can be assembled open/closed.
Working gun travel lock.
Interior details of PaK 40.
Detailed breech can be assembled open or closed.
Both front and rear steering controls superbly reproduced.
Delicate PaK 40 mount reproduced.
Interior details on escape hatches are accurately modeled.
Stowage box molded on fender.
Double-layer ultra-thin gun shield with rivets.
Finely detailed front engine compartment cover.
Transparent parts for vision ports contribute to great interior detail.
Detailed transmission cover.
Authentic multi-part muffler.
Cleaning rods and on-vehicle tools reproduced.
Additional on-vehicle tools without clasps.
2 types of plastic ammunition shell casting, ammo tubes (open/closed) and metal cases.
Three kinds of slide-molded muzzle brakes.
Extendable jack made up of separate parts.
Ammo boxes can be assembled open or closed; optional loaded or unloaded ammo rack inside.
---
Share this Product
---
More from this collection