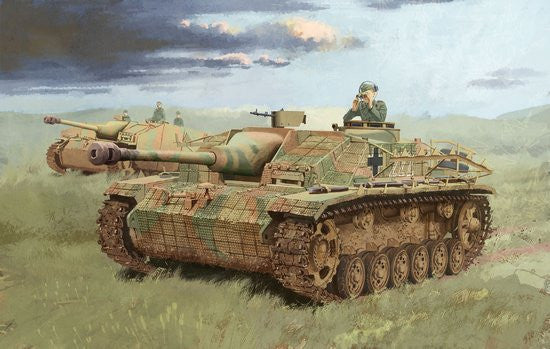 Dragon Military 1/35 StuG III Ausf G Late Tank w/Zimmerit July 1944 Smart Kit
ACCEPTING BACK ORDERS
DML-6633
---
The StuG.III (Sd.Kfz.142) was based on the widely used Panzer III family of tanks, and it evolved into a very capable German tank destroyer during WWII. In fact, the StuG.III was Germany's most widely manufactured armored fighting vehicle of the war. As enemy tanks improved their protection and armament, Germany responded by fitting the effective 7.5cm StuK 40 L/48 gun inside the vehicle's casemate. This variant was known as the Ausf.G, of which 7,720 were produced from December 1942 through till April 1945. This made the Ausf.G the most common German tank destroyer variant by far. Dragon's 1/35 scale StuG.III Smart Kit depicts an Ausf.G model from the Late-Production type.
This is not just another StuG.III kit, as it has features unique to a late-war vehicle produced around July 1944. This has resulted in brand new parts such as the engine deck, side air intakes and front glacis armor being created with Zimmerit
, the special antimagnetic coating applied to vehicle surfaces to prevent adhesive mines from being attached. The plastic Zimmerit is masterfully textured and molded in situ, and it saves modelers from the agonizing task of adding this coating themselves using putty. The protective
side skirts (Schürzen) are separate metal plates
that lend themselves perfectly to the task of replicating those on the original vehicle. Other photo-etched components cover such elements as air intake grills and idler wheel rings,
plus a brand new frame for stowing equipment on the engine deck
. This is another fine 1/35 StuG.III Ausf.G kit from Dragon, made all the more desirable thanks to its new coating!
- Newly tooled MG 34 can be optionally assembled 

- Newly produced return rollers 
- Travel lock w/photo-etched chain is newly produced 
- Newly produced roof armor w/accurate weld seams 
- Slide-skirt armor-plate brackets reproduced 
- Slide-skirt armor produced in metal for scale thickness 
- Injection-molded Zimmerit w/extreme details that accurately replicates the real vehicle 
- Gun w/full breech assembly 
- Slide-molded mantlet w/internal surface detail 
- Chamfer on lower part of mantlet 
- Gun breech and recoil guard fully replicated 
- Recoil and recuperator cylinders are truly represented 
- Slide-molded gun sleeve 
- One-piece barrel 
- Slide-molded muzzle brake 
- Slide-molded fenders feature photo-etched parts w/upper and lower surface details 
- Fender pattern accurately portrayed 
- Hatches can be assembled open/closed 
- Photo-etched rack on engine deck for true-to-scale appearance 
- Engine deck w/interlocking structure has realistic weld seams 
- Screw heads are accurately reproduced 
- Delicate side-skirt brackets on fenders 
- Commander's hatch w/interior details can be assembled open/closed
- Multi-directional slide-molded superstructure w/bolt detail 
- Photo-etched air-intake grills 
- Cooling air intakes are slide-molded 
- Multi-piece upper hull easily assembled 
- Radio set and seats are included 
- Fully detailed hull bottom weld seams 
- One-piece slide-molded lower hull w/superb details 
- Floor treadplate pattern is correctly done 
- Driver's vision port w/clear plastic part 
- One-piece driver's vision port armor w/bolt details 
- Steering-brake inspection hatch can be modeled open/closed 
- Air deflector truly represented 
- Photo-etched mesh is included 
- Intricate OVM included 
- Jack is reproduced w/multiple parts 
- Final-drive housing covers are separate parts for maximum detail 
- Road wheels and sprocket wheels w/accurate details 
- 40cm Magic Tracks
---
Share this Product
---
More from this collection