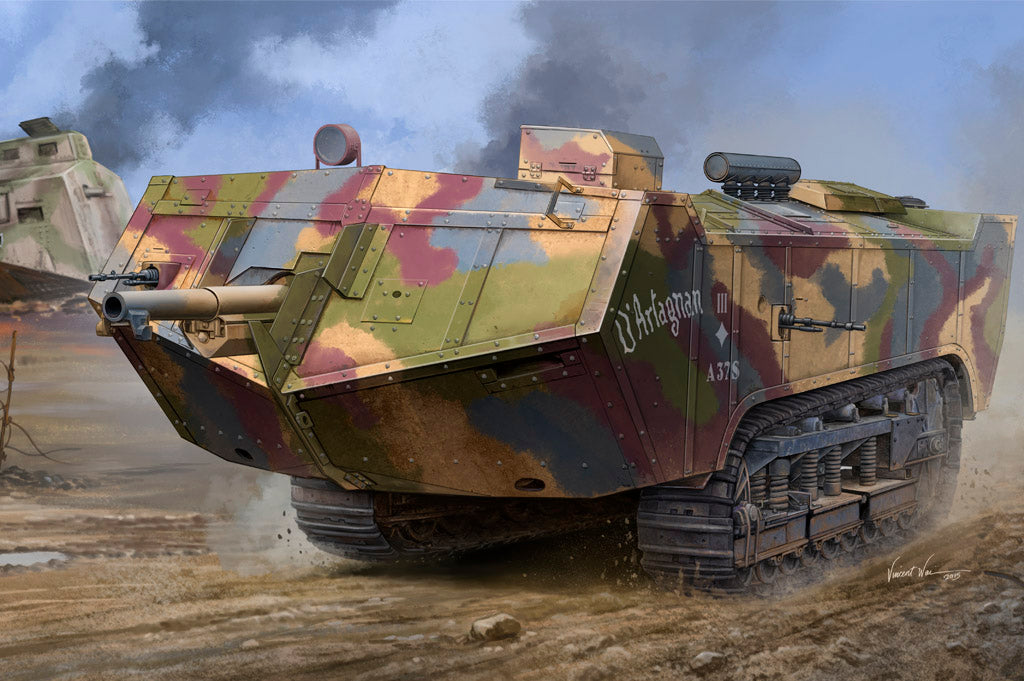 Hobby Boss Military 1/35 French Saint-Chamond Heavy Tank - Late Kit
Estimated Shipping: 2-3 Business Days
HBB-83860
---
The Saint-Chamond was the second French heavy tank of the First World War, with 400 manufactured from April 1917 to July 1918. Born of the commercial rivalry between the makers of the Schneider CA1 tank, the Saint-Chamond was an inadequate design. Its principal weakness was the "caterpillar" tracks. They were much too short in relation to the vehicle's length and heavyweight ( 23 tons ). Later models, however, attempted to rectify some of the tank's original flaws by installing wider and stronger track shoes, thicker frontal armor and the more effective 75mm Mle 1897 field gun. The Saint-Chamond tanks remained engaged in various actions until the late summer of 1918, belatedly becoming more effective after combat had moved out of the trenches onto open ground. Eventually, however, the Saint-Chamond tanks were scheduled to be entirely replaced by imported British heavy tanks.
300+ Parts

Excellent exterior detail with rivets, separate hatches, front armored plate and roof mounted ventilation with detailed exterior

75 mm gun barrel with detailed gun mechanism (gun can ascend and descend)

8mm Hotchkiss M1914 machine guns

Detailed running gear (exhaust, sprockets, idler wheels), individual track link, clear headlight, photoetch (exterior accents).




Decals and 5-view color painting reference for 4 tanks.
---
Share this Product
---
More from this collection