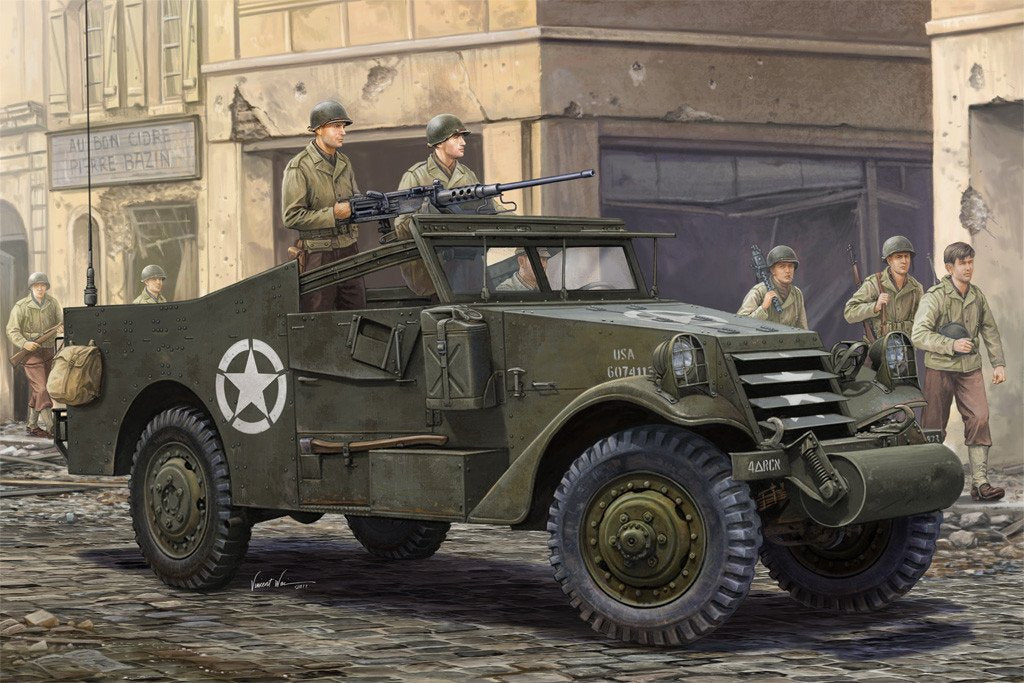 Hobby Boss Military 1/35 M3A1 Scout Car White Late Kit
Estimated Shipping: 2-3 Business Days
HBB-82452
---
The White M3A1 Scout Car first produced in 1938, Initially, the scout car was primarily used by armored and reconnaissance units. But it was more suited to road use than cross-country terrain, During the war, the M3A1s were rarely used in the dangerous role of scout vehicles. Trial versions included the M3A1E1 with a diesel engine, the M3A1E2 with an armored roof, and the M3A1E3 mounting a 37mm(1.46in) gun on a rotating pedestal. Nearly 21,000 were built and the M3, known as the White scout car, was supplied in large numbers under Lend-Lease to the Soviet Union and to Free French forces. After the war, surplus vehicles were exported to nations in Israel and elsewhere, where they often served for many years.

The vehicle could carry a crew of eight and was armed with a .50 M2 machine gun in the front and two .30 1917 Brownings positioned in the rear. All three guns were mounted on a continuous skate rail and could bring down a lot of fire on a target.
240+ Pages

Well detailed chassis (frame, full Hercules engine, drivetrain and suspension)

Driver and fighting compartment interiors

Injection-molded tires

Separate doors and hood panels

Pivoting radiator louvers

Front-end winch with rotatable drum

Detailed weapons (moveable on skate rail)

Separate on-vehicle equipment and seat cushions plus photo-etch parts (engine fan, brush guard, and additional fine interior and exterior details)




Decals and color painting guide for 3 vehicles: US Army, Red Army and Free French - includes gauges and data placards.
---
Share this Product
---
More from this collection