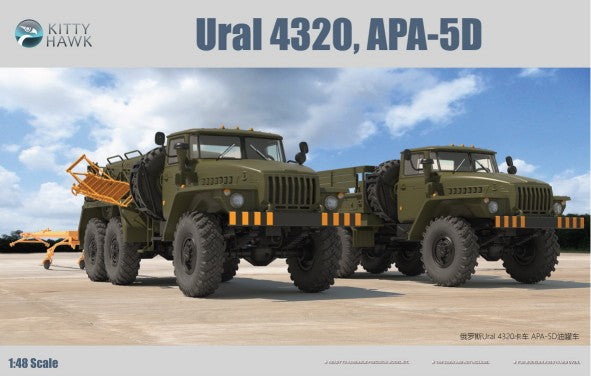 Kitty Hawk Military 1/48 Russian Ural 4320 Tanker Truck w/4 Optional Loading Trollies (New Tool) Kit
Estimated Shipping: 2-3 Business Days
KTY-80159
---
The Ural-4320 is a general-purpose off-road 6x6 vehicle, produced at the Ural Automotive Plant in Miass, Russia for use in the Russian army. Introduced in 1976, it is still in production today. The wheel arrangement for the Ural-4320 was designed for transporting cargo, people and trailers on all types of roads and terrain. It also serves as a fuel carrier for aircraft and other vehicles.

Kittyhawk Model is making one of these, with the option of a cargo tray and a fuel truck option, both in the 48th. The truck comes with the large booms that swing off to the side and over the aircraft. There is also the option of making this an ordinance or general duties truck, a cargo tray is an option for this kit.

This kit includes three trollies to go alongside or to be towed by the truck. The circular connectors carry large ordinance, the flat on carries lots of bombs, a spare jack, and a portable fire extinguisher. 
---
Share this Product
---
More from this collection