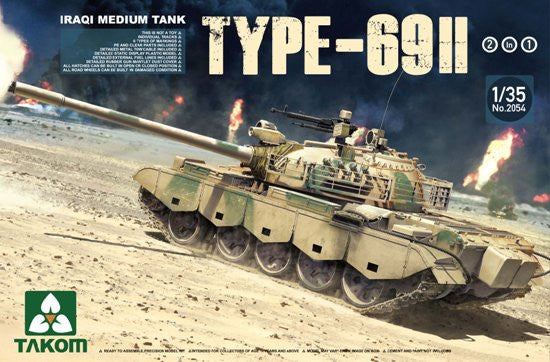 Takom 1/35 Iraqi Medium Tank Type-69 II (2 in 1) Kit
This Product Usually Ships In 2-3 Business Days
TAK-2054
---
In the spirit of "Socialist Brotherhood" the Soviet Union transferred tank technology to the Peoples Republic of China in 1956 with the goal of starting indigenous production of the then new T-54A medium tank. The Chinese worked diligently on this and the first production model of their version, the Type 59 (WZ-120), rolled out of the factory in late 1957. Estimates are that over 6,000 were produced between 1957 and 1983 and also were sold or given to more than ten foreign goverments. It was followed by the slightly improved Type 59-I and Type 59-IIA.
But as the Type 59 got long in the tooth - and the Soviets had moved on to the T-55 which they would not share with the Chinese - they decided to modernize the Type 59 to very similar standards to the T-55.
In the late 1970s the NORINCO company developed a new design, the Type 69-I (WZ-121), based on the Type 59 with a number of upgrades including a new 100mm smoothbore gun. But this gun was a failure and they soon moved back to their copy of the D-10T 100mm gun in the Type 69-II.
This tank had a locally designed two-axis stabilizer like the T-55 as well as a laser range finder and other changes. Externally its most prominent indicators were new twin headlight clusters moved to the fenders and a larger cooling fan necessitating a bulge at the rear of the hull under the stern plate. This soon became the most widely produced Chinese tank as well as its most heavily exported one. Nearly 4,800 were built of which the Iraqis purchased nearly 1,500.
The tank was available with options and these include side skirts, eight smoke grenade launchers, a combination bustle rack/standoff grille armor array (called "Boom Shields" in factory handouts) and a "dazzler" to blind ATGM gunners by sending false light pulses back to disrupt tracking. The tank came in three variants: WZ-121A or what the Soviets called the "line tank" version, the base tank; WZ-121B, a battalion/regimental command tank with VHF and HF radio sets, antennas for use in fixed positions, and stowage for a small generator set and cabling at the rear of the hull; and the WZ-121C, a company level command tank similar to the B model but with twin VHF radio sets and no fixed bow machine gun.
While these tanks were effective in the Iran-Iraq War, needless to say they were rather hapless against the Coalition in the 1991 Gulf War and the few survivors also did not fare well in 2003.
---
Share this Product
---
More from this collection