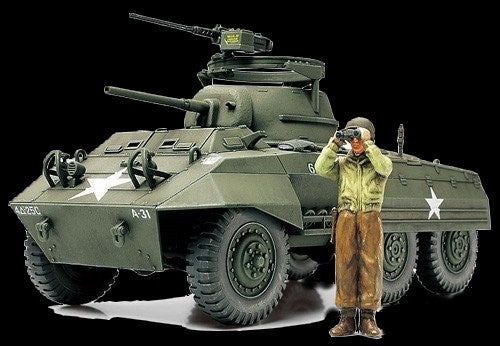 Tamiya Military 1/48 US M8 Greyhound Kit
OUT OG STOCK
TAM-32551
---
The Eyes of the Army
With a top speed of 88km/h, the M8 Greyhound lived up to its name as a fast reconnaissance vehicle for Allied armies. The M8 was equipped with a liquid-cooled 110hp gasoline engine that powered all six wheels, giving it excellent off-road capability. An open-top turret armed with a 37mm cannon and M2 heavy machine gun also gave it a powerful punch for supporting infantry. Approximately 8,500 were produced during WWII, serving in motorized cavalry units of U.S., Free French, and British armies. Many developing nations also continued to use the M8 after the war.
Length: 104mm

Open-top turret enables viewing of interior details such as gun breech and ammo basket.

6-wheeled suspension system features a reasonable number of parts without sacrificing detail.

Die-cast chassis adds weight for greater realism.

Sharply reproduced M2 heavy machine on turret ring mount.

Hull details such as tool box and mine racks also included.

Separately molded parts replicate the large side fenders.

1 figure and 2 types of markings included.
---
Share this Product
---
More from this collection