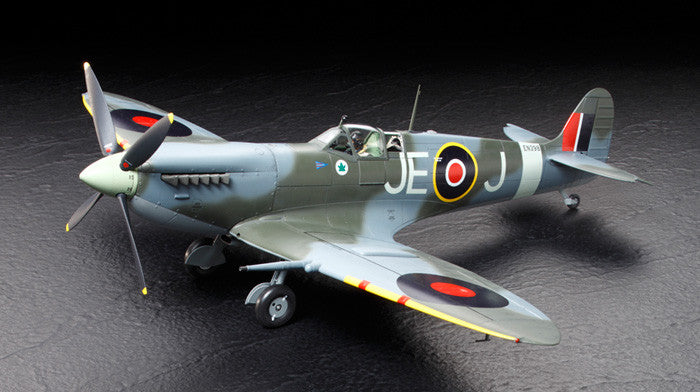 Tamiya Aircraft 1/32 Supermarine Spitfire Mk IXc Fighter Kit
This Product Usually Ships In 2-3 Business Days
TAM-60319
---
The legendary Spitfire was the representative British fighter of WWII and many served with various air forces well into the 1950s. Among these was the Mk.IX, a variant powered by the Rolls-Royce Merlin 60 series engine which was developed to counter the Luftwaffe's Fw 190. Most of the Mk.IX aircraft came equipped with the C wing, two 20mm cannons, and four 7.7mm machine guns. The Mk.IXc, which was issued to units in July 1942, featured a top speed of 669.46 km/h and had superior maneuverability. The Mk.IXc not only helped the RAF regain air superiority over the English Channel, but it was also the second most produced Spitfire variant with 5,500 built. They were the RAF's main fighter for the latter half of the war.
Overall Length: 302mm, Overall Width: 352mm.
2 kinds of parts for top and bottom engine cowlings, wingtips, rudder, and elevators included.
Features moveable ailerons.
Flaps can be depicted in either up or down position.
Comes with 3 kinds of markings including one to depict the aircraft piloted by RAF ace Johnnie Johnson.
1. Two types of fuel tanks (normal, flying stand)
2. Two types of filters (early / late model)
3. Two types of exhausts (early / late model)
4. Two types of cowlings (early / late model)
5. Two types of wing bulge (twin/single cannon)
6. Two types of wingtips (round, clipped)
7. Two types of rudder (round, pointed)
8. Two types of stabilizers (straight, horn)
The Spitfire Mk. IX assembly kit also features the following:
Early and late style wheels
Early and late style gunsights
Rubber brake lines and tires
IFF antenna panel
Bomb racks and 250lb bombs
Stand to display the model in-flight
Open or closed canopy and cockpit hatch (see 9).

 
---
Share this Product
---
More from this collection