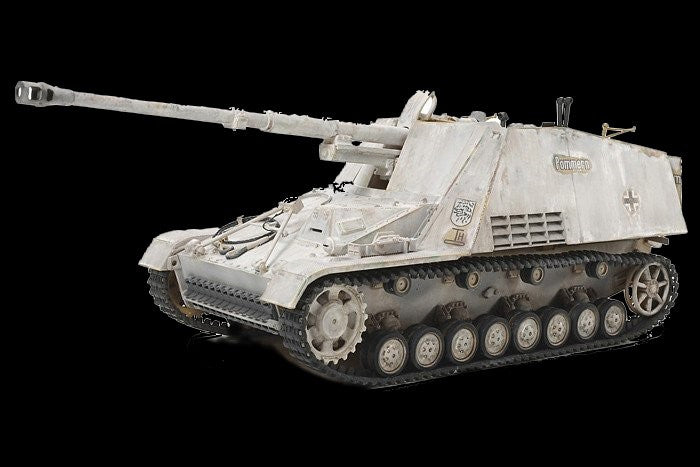 Tamiya Military 1/35 German Nashorn Self-Propelled Heavy Anti-Tank Destroyer w/8.8cm Pak 43/1 Gun Kit
This Product Usually Ships In 2-3 Business Days
TAM-35335
---
This is a highly detailed model of the WWII German tank destroyer Nashorn. The full-size vehicle featured an 8.8cm gun also known as a PAK 43 and it was fitted to the upper surface of a light turretless chassis. Even though the vehicle was lightly armored, the PAK43 weapon was capable of penetrating 190mm of armor at 1,000 meters. The Nashorn saw action with German heavy antitank battalions fighting Soviet and Allied forces during much of the conflict. Due to its relatively low cost and superior mobility compared to heavier tanks it remained in production until the end of WWII.
The model accurately recreates the powerful form of the Nashorn, thanks to detailed research performed using an actual example of the vehicle in a museum in Russia.

Features faithful reproductions of the 71-caliber 8.8cm gun and complex fighting compartment.

Metal parts are used to ensure that the gun has authentic movement and weight.

Comes with 3 marking options, including winter and Eastern front versions.

4 included figures depict driver and 3 crew members in a variety of realistic poses.
---
Share this Product
---
More from this collection