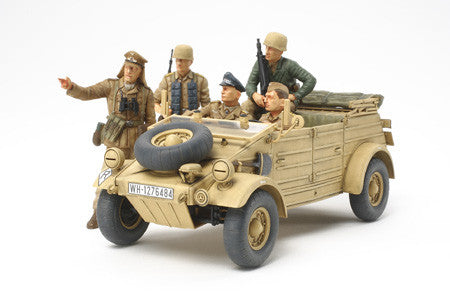 Tamiya Military 1/35 Kubelwagen Type 82 w/5 Ramcke Parachute Brigade Kit
This Product Usually Ships In 2-3 Business Days
TAM-35304
---
After the 1941 assault on Crete, elite German parachute units were formed into a brigade. The parachute unit, know as the "Ramcke Parachute Brigade" was created to lead assaults in North Africa against Allied forces and counter act the British SAS units attack. The brigade was heavily involved in the Second Battle of El Alamein, the attack on Stirling's Special Air Service, and DAK's assault of the Suez Canal. In 1943, at Tunisia, the Ramcke brigade saw its last battle and was forced to surrender to British forces.
Figures represent soldiers of the elite Ramcke Parachute Brigade in North Africa.

A driver, officer, machine-gunner (seated in the rear of the Kubelwagen), a non commissioned officer providing directions (wearing a tropical Herman Meyer hat), and a rifleman figure are included.

The figure from the original 1/35 scale German Kubelwagen Type 82 Africa-Corps is also included for a total of 6 figures.
---
Share this Product
---
More from this collection