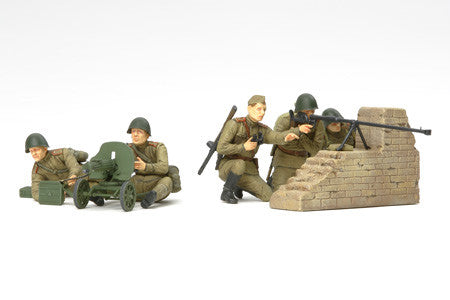 Tamiya Military 1/35 Russian Infantry Anti-Tank Team (5 Figures) Kit
This Product Usually Ships In 2-3 Business Days
TAM-35306
---
During WWII, anti-tank rifles were used by Russian infantry to counter German tanks. One such rifle was the "ProtivoTankovoye Ruzhyo Degtyaryova" otherwise known as the "PTRD". The single shot PTRD fired a 14.5mm shell and had an effective range up to 800m. PTRD teams often hid among destroyed buildings waiting to knock out its next victim.
Set includes a total of 5 figures. A shooter and spotter for the PTRD, a soldier holding a hand grenade, and a loader and shooter for the included Maxim heavy machine gun.

Figures feature natural poses and realistic proportions.

The uniforms depict those worn from 1943 to the end of the war.

A block from a destroyed building has been modeled and included in the set.

Rucksacks, helmets, and small firearms included.

Parts are included to depict the PTRD rifles in deployed and transit states.

PTRD rifle and the Maxim heavy machine gun are newly designed by Tamiya.
---
Share this Product
---
More from this collection