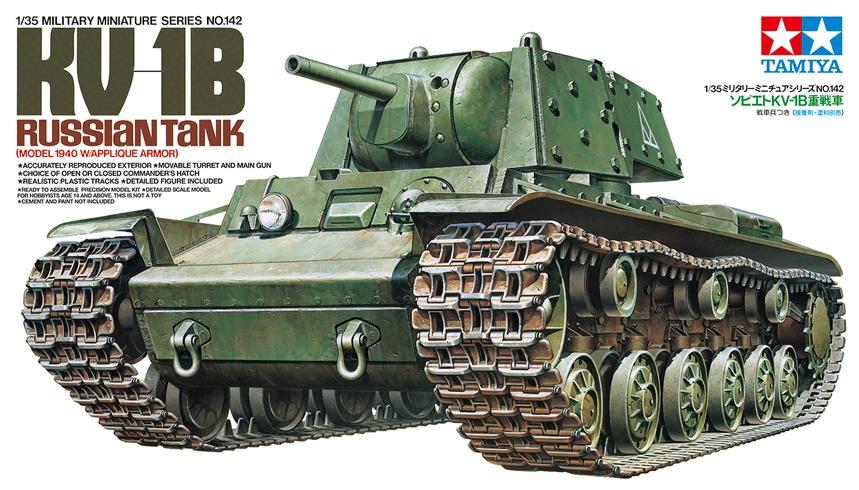 Tamiya Military 1/35 Russian KV1B Mod 1940 Tank w/Applique Armor (Re-Issue) Kit
Estimated Shipping: 2-3 Business Days
TAM-35142
---
Along with the T-34, the KV series of heavy tanks played a vital role for Soviet forces in WWII. This precision plastic model recreates the KV-1B variant, which was up-armored compared to the original KV-1, on account of fears about improved German weaponry. The bolt-fastened 25-35mm applique armor gave total armor thicknesses of 120mm on the turret front, 110mm on the turret sides and hull front, and 75-110mm on the hull sides. In combination with the imposing 76.2mm main gun and a 550hp diesel engine, this made the KV-1B (manufactured from July 1941) a daunting proposition for enemy units. 
The form of the up-armored turret and hull is captured exquisitely, with the numerous bolts depicted accurately. 
Model can be assembled with commander's hatch in open or closed position. 
The main gun offers elevation and depression. 
Steel road wheels are authentically rendered in plastic. 
3 markings options are included; with various Russian language slogans and markings: 
Marking Option 1: Aug. 1941, Leningrad (suburb of Luga); Option 2: Summer, 1941; Option 3: Sept. 1941. 
Comes with 1 standing crewman figure. 
---
Share this Product
---
More from this collection