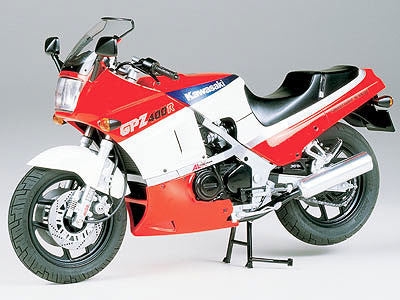 Tamiya Model Cars 1/12 Kawasaki GPZ400R Motorcycle Kit
This Product Usually Ships In 2-3 Business Days
TAM-14045
---
Traditionally, Kawasaki bikes have had a large body styling ever since the release of the Z400FX, and this new bike also has a rather large profile when compared to other 400cc motorcycles. The square pipe aluminum frame is a must for super sport bikes and the GPZ400R is no exception. Their frame is different though in that it has no backbone, but uses large sectioned tubing that bows around the engine, which Kawasaki calls an aluminum cross frame. This type of frame prevents distortion during high speed cornering and also gives it the distinct profile. The much advanced liquid-cooled DOHC 16 valve inline 4 cylinder engine stems from Kawasaki's knowledge derived since their Z-1, and it is light, compact and powerful. The high performance carburation using a flat valve metering system, lets this bike accelerate from 0-400 meters in 12.8 seconds, and provides a top speed in excess of 205km/h. The front fork uses an automatically variable anti-dive system, while the rear suspension uses the Kawasaki original Uni-Trak tested on the Grand Prix circuits world-wide. The use of 16 inch wheels both front and rear allows quick handling yet excellent straight running ability. While the 400cc class is crowded with many replica type racers, the GPZ400R has succeeded in blending aerodynamics and high tech engineering to produce an easy riding, powerful and comfortable Super Sport machine.

Any Kawasaki enthusiast will surely remember this manufacturer for its strong charactered high performance bikes. Kawasaki, formerly a well known airplane maker, started producing motorcycles using their high industrial standards used when making aircraft. Their 1966 model A-1 with a 250cc rotary valve, two cycle engine could move the light weight bike to an amazing 165km/h. This little king killer had a great impact on the industry back in those days, and shortly after the A-1, Kawasaki introduced the legendary 500SS Mach III, the fastest street going machine on the market. The difficult handling of the machine and its high speed had the enthusiasts calling her the "crazy mach".

In 1972 they produced the first ever DOHC in-line four motorcycle engine and the Z900 debuted while sweeping every "BIKE OF THE YEAR" award around the world. From that point on, Kawasaki has been looked upon as a high performance motorcycle manufacturer. Every maker has its own high performance bike on the market, and especially the 400cc size in Japan. Kawasaki's is their new GPZ400R which appeared in February 1985. The GPZ400R was built under a different concept as compared with other manufacturers replica type bikes. Their's is not just another copy of a GP type racer, but a totally new styling, resulting from sophisticated aerodynamic wind testing. The scoop laden full fairing helps the GPZ400R achieve a fantastic 0.29 drag coefficient.
---
Share this Product
---
More from this collection