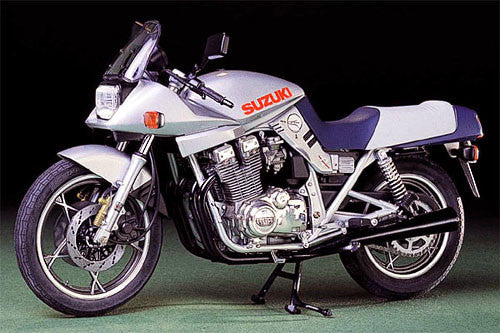 Tamiya Model Cars 1/12 Suzuki GSX1100S Katana Motorcycle Kit
This Product Usually Ships In 2-3 Business Days
TAM-14010
---
One of the most famous motorcycle shows in the world, is held every two years in Cologne West Germany, and the 1980 show is sure to stand out as one of the most unforgettable. One reason was that Honda released their CX500 turbo for the first time, and the second is that Suzuki's GSX1100S "Katana" (Japanese for sword) was unveiled. The Honda CX500 attracted attention for its advanced engine techniques and the Katana for its advanced and aggressive body styling, which broke from common traditional motorcycle styling. Although the Katana GSX1100S styling impressed the many thousands of viewers, almost everybody thought that it was just for show and the production model would be quite different.

During the summer of 1981, Suzuki released the production Katana with almost exactly the same body styling seen at the Cologne show, with subtle improvements in the engine and running gear. The body styling is from the genius of Mr. Hans A. Muth of West Germany, who spent much time ensuring driver comfort in his design, and which proved out in many wind tunnel tests. The entire styling was derived from research on the best drivers position, and the rearward placed backsteps and unique tank styling were not done just for the pleasing jet age appearance.

Large capacity fuel tank and small fairing were blended together for the best airflow around the rider and the bike. Although the bike is most noticeable for its styling, every part in it is quality. Engine is an air-cooled, parallel 4 of 1075cc, using 16 valves. With unique Suzuki TSCC (Twin Swirl Combustion Chamber) in the engine, it puts out 111 hp. This tremendous power transmits into a road speed of 230 k/ph and its unique body styling keeps it stable even at these high speeds. Suzuki is shipping a 1000cc Katana GSX1000S to the American market, and also a 750cc version to the European market as well. Requests form Japanese enthusiasts prompted Suzuki to also market a 750cc Katana GSX750S to their market.
---
Share this Product
---
More from this collection