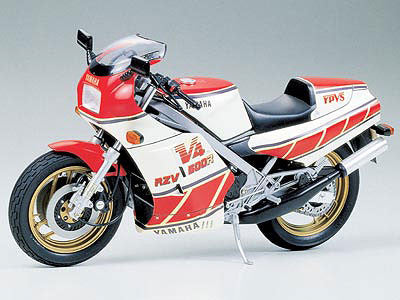 Tamiya Model Cars 1/12 Yamaha RZV500R Motorcycle Kir
This Product Usually Ships In 2-3 Business Days
TAM-14037
---
Since their establishment in 1955 as a viable motorcycle company, the Yamaha firm of Japan has been developing compact and high powered 2 stroke engines for use in international racing events as well as in Japan. Although they are nowadays also known for their 4 stroke machines in street bike versions, the Yamaha people are still working on the perfection of 2 stroke engines. This type of engine is ideal for the small displacement bikes of 50-125cc engines, but the larger motorcycles have normally been equipped with 4 stoke engines due to the lower noise levels, and no visible exhaust pollution and less vibration, since the early 70's. Two stroke engines have less parts, are easier to keep in tune and require normally less maintenance. The Yamaha 2 stroke sports bike RZ250 succeeded in reducing many undesirable traits by improving the engine design and water cooling it. It also puts out a whopping 35hp and became a best selling sports type motorcycle. Honda, Suzuki and Kawasaki were stimulated by these sales to also produce 2 stroke machines. The majority of these bikes were patterned after Grand Prix racers which have been active in world competition.

While these smaller racing replicas were gathering popularity, Yamaha unveiled their RD500LC (known as the RZV500R in Japan) at the Tokyo Motor Show in 1983. While previous releases were replicas of G.P. racers in the 250cc class, this new bike has the same displacement and layout as the Grand Prix racers then in competition , and this caused a great sensation throughout the bike world.

Designed with an aim towards lightness and compactness and to be utilized with their G.P. engine of YZR fame, the styling and layout were accomplished first. Mounting this 64hp powerhouse in the compact bike caused a few problems; however, all came out right in the end. The layout of the exhaust system in this V4 engine is unique in that the front two cylinder exhaust forward and back two vent to the rear. To equalize back pressure and maintain the same tuning on all four cylinders, the rear two exhaust pipes cross over each other, under the saddle, to maintain the same length on all four pipes. Previous motorcycles had special carburetors set between the V banks, but the RZV avoids this and utilizes normal carburetors for better maintenance. Yes, this is a true replica of a Grand Prix racing machine that is available for street use by all enthusiasts.
---
Share this Product
---
More from this collection