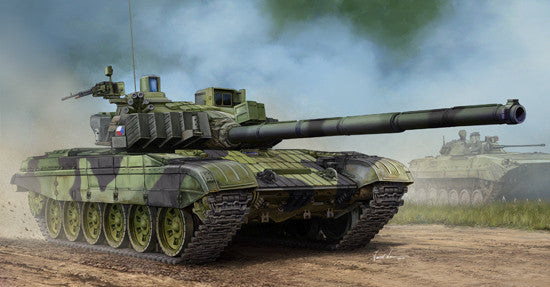 Trumpeter Military Models 1/35 Czech T72M4CZ Main Battle Tank Kit
This Product Usually Ships In 2-3 Business Days
TSM-5595
---
The original Russian-designed tank T-72 of the 2nd generation has been completely modernized to the level of its 3rd generation variants. In addition to other major improvements of the tank, the 3-man crew is now better protected against enemy fire, the effects of blast, radiation and chemical agents.The upgraded battle tank T-72M4 CZ is an armored, tracked vehicle with high maneuverability and heavy-terrain passability. Equipped with a 125mm cannon with a rate of fire of 8 rounds per minute, a 7.62mm PKT machine gun coupled with a 12.7mm NSV anti-aircraft machine gun, and a type 95/98 7.62mm machine gun that can use both original and NATO ammunition, the tank can effectively engage other armored targets, enemy troops, and low flying targets.The tank can ford water obstacles. It is equipped with a camouflage-designed smoke generator and an internal fire extinguisher.The tank's acceleration characteristics meet the criteria of the 3rd generation variant. It requires only one-half the time of the original T-72 tank to reach a speed of 20 mph. In addition, the night-time observation and surveillance ranges of the T-72M4 CZ were extended to 3rd generation levels. The upgraded tank's effective night-fire capabilities are rated at 95 percent of those found in the 3rd generation tank.
Over 780 Parts

1-piece lower hull, multi-piece upper hull with exterior detail

Turret with exterior detail and separate additional armor array, separate hatches, detailed running gear with (sprockets, road wheels, idler wheels and individual link track), ERA armor, 2-piece 125mm gun barrel and choice of (3) manlet's, 7.62 mm PKT coax machine gun, brass wire tow cable, wooden log, smoke grenade dischargers, molded on vehicle storage boxes, clear parts and extensive photo-etch parts.

Decals and painting reference for (2) schemes.
---
Share this Product
---
More from this collection