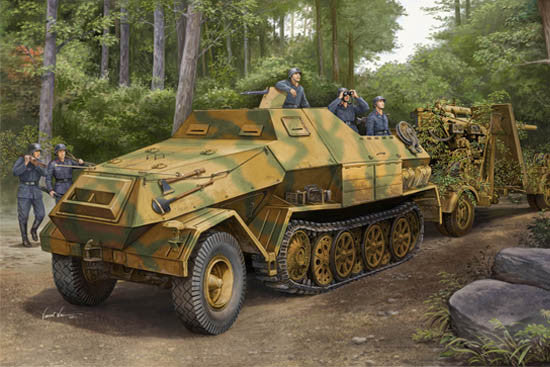 Trumpeter Military Models 1/35 German SdKfz 8 Gepanzerte 12-Ton Halftrack Kit
This Product Usually Ships In 2-3 Business Days
TSM-1584
---
The Sonderkraftfahrzeug 8  was a German half-track that saw widespread use in World War II. Its main roles were as a prime mover for heavy towed guns such as the 21 cm Mörser 18, the 15 cm Kanone 18 and the 10.5 cm FlaK 38. Approximately 4,000 were produced between 1938 and 1945. It was used in every campaign fought by the Germans in World War II, notably the Invasion of Poland, the Battle of France, the Balkans Campaign, the Eastern Front, the North African Campaign, the Battle of Normandy and the Italian Campaign.
Fully detailed likeness DB10 engine,

Multi-part chassis frame with separate drive line and exhaust elements

Rear hitch

Detailed suspension

Individual link workable track

Separate hatches and view ports

Driver and fighting compartment interiors

Engineer tools, jerry cans, pivoting MG 42 machine guns (x2), posable front wheels, clearance indicator poles, vinyl tires (choice of 2 tread patterns), brass wire and photo-etch brackets and fine details.

Includes color painting guide for a typical German vehicle and decals representing dash panel gauges and markings plus registration plates.
---
Share this Product
---
More from this collection