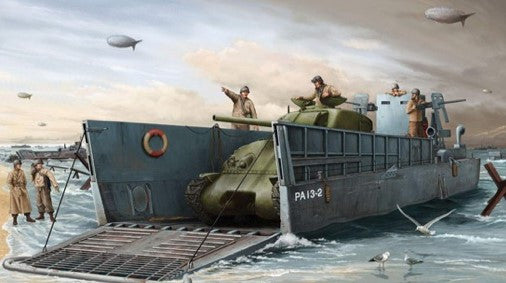 Trumpeter Military Models 1/35 WWII LCM(3) US Navy Landing Craft Kit
This Product Usually Ships In 2-3 Business Days
TSM-347
---
The LCM (Landing Craft Mechanized) was the most widely used tank-carrying landing craft in WWII and more than 8,500 were built in American yards between 1942 and 1945. As British had no tank-carrying craft lighter than LCT (Landing Craft Tank) s, LCMs were also readily adopted by Royal Navy. LCMs could be either carried on ship davits, or towed across the English Channel. Due to the danger of swamping in rough seas, most LCMs were towed across the Channel and not loaded with troops until the mornings of D-Day. LCMs could be readily identified by their unique perforated bow ramp. As tanks grew larger and heavier, the LCM (3) was developed with a longer hull and greater buoyancy, which allowed a 30-ton tank to be carried. They could also handle up to 30 tons of cargo or 60 troops. LCM (3) had a crew of 4 men and was armed with two 50-caliber machine guns. The LCM was not designed for the crew to live aboard and it remained dependent upon a parent ship over long periods of time. The most important role played by LCMs on D-Day was transporting the engineer teams to demolish the beach obstacles. 
Fully detailed hull, interior, pilot house, and guns.

Includes photo-etch detail parts.

Includes markings for one LCM.
---
Share this Product
---
More from this collection