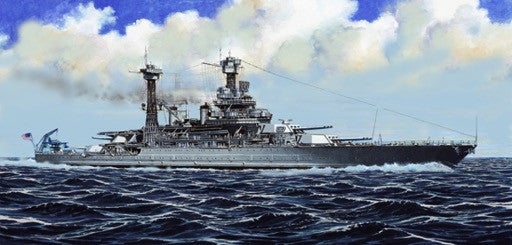 Trumpeter Ship Models 1/700 USS California BB44 Battleship 1941 (New Variant) (FEB) Kit
Estimated Shipping: 2-3 Business Days
TSM-5783
---
The USS CALIFORNIA (BB-44), the second of two Tennessee Class turbo-electric battleships, was laid down on October 25, 1916, launched on November 20, 1919 and commissioned on August 10, 1921. At the time, CALIFORNIA was the largest warship built at Mare Island Naval Shipyard in California.

In the raid on Pearl Harbor on December 7, 1941 CALIFORNIA was sunk by Japanese torpedo action. Following the crew's successful efforts that prevented capsize, CALIFORNIA was refloated on March 25, 1942 and made for Puget Sound ship yard for rehabilitation and modernization, completed by January 1944. With sister Tennessee, CALIFORNIA participated in the invasions of Saipan, Guam and Tinian in June and July 1944, and in the Mariana and Palau islands invasions from June to November 1944. Tennessee collided with CALIFORNIA in the Pacific on August 23, 1944, both ships sustaining damage, with fatalities on CALIFORNIA. The naval Battle of Leyte Gulf in October 1944 saw the sister ships in action again.

On January 6th 1945 CALIFORNIA was struck by 'Kamikaze' plane during the Lingayen Gulf campaign and returned to Puget Sound for repairs. CALIFORNIA was back in action in the western Pacific at Okinawa in June 1945, remaining in the East China Sea on mine sweeping duty. CALIFORNIA supported the Allied occupation forces in Japan until October 1945 before returning home to Philadelphia PA. CALIFORNIA was decommissioned in February 1947 and sold for scrap in July 1959.
---
Share this Product
---
More from this collection