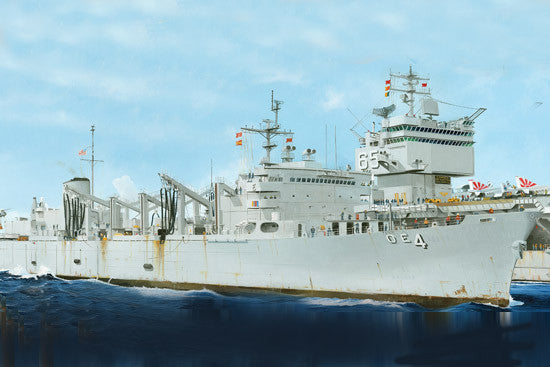 Trumpeter Ship Models 1/700 USS Detroit AOE4 Sacramento Class Fast Combat Support Ship Kit
Estimated Shipping: 2-3 Business Days
TSM-5786
---
The fast combat support ship (AOE) is the Navy's largest combat logistics ship. The AOE has the speed and armament to keep up with the carrier battle groups. It rapidly replenishes Navy task forces and can carry more than 177,000 barrels of oil, 2,150 tons of ammunition, 500 tons of dry stores and 250 tons of refrigerated stores. It receives petroleum products, ammunition and stores from shuttle ships and redistributes these items simultaneously to carrier battle group ships. This reduces the vulnerability of serviced ships by reducing alongside time. SACRAMENTO class is considered a benchmark in West Coast shipbuilding. DETROIT and her sister ships , are the largest ships ever built on the West Coast. Only the Iowa class battleships and aircraft carriers have greater displacements than SACRAMENTO class.

DETROIT was placed in commission on March 28 1970.
340 Parts

Optional full or waterline hull, well detailed upperworks, weapons, ship's boats, cranes, fueling booms, helipad, helicopters (2 each clear-molded CH-46 Sea Knights and MH-60S Knighthawks with optional extended or folded rotors) and dryd ock block inspired display stand with nameplate

Includes photo-etch parts - crane arms, helipad netting, inclined ladders and fork lift details

Completed length is approximately 13.6" long

Color painting guide shows port and starboard profiles and overhead plan view - decals for helipad markings, aircraft insignia, hull markings, jacks and ensigns.
---
Share this Product
---
More from this collection