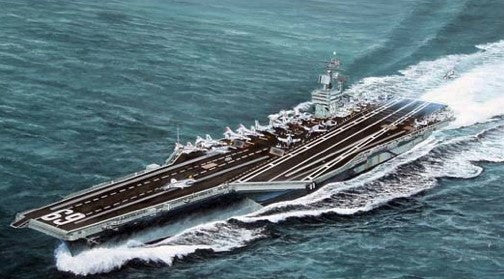 Trumpeter Ship Models 1/700 USS Dwight D. Eisenhower CVN69 Aircraft Carrier 1978 Kit
Estimated Shipping: 2-3 Business Days
TSM-5753
---
The Nimitz Class aircraft carriers are the largest warships ever built. With over 6,000 personnel, the carrier has a displacement of 102,000t, and a flight deck length of 332.9m. All seven nuclear-powered Nimitz class carriers have been built by Newport News Shipbuilding, based in Virginia. The Nimitz air wing consists of 74-86 aircraft. The flight deck measures 333 x 77m and is equipped with four lifts, four steam-driven catapults and four arrester wires. The carrier is capable of launching one aircraft every 20s. The nuclear-powered carrier has two General Electric pressurized water reactors driving four turbines of 260,000hp (194MW) and four shafts. There are four emergency diesels of 10,720hp (8MW). The first of class, USS Nimitz, was commissioned in 1975. The latest, USS Ronald Reagan CVN-76, was commissioned in July 2003.
Optional full or waterline hull, display stand, transparent bridge windows, flight and hangar decks, detailed superstructure and hangar, flight deck equipment, brass wire

Photo-etch parts (antennae and transom rack) and vacuform 'water texture' base

Includes clear-molded A-6E (x4), A-7E (x6), F-4J (x10), S-3B (x4) and SH-3H (x4) aircraft.

Decals for air wing, deck, hull and ensigns.
---
Share this Product
---
More from this collection