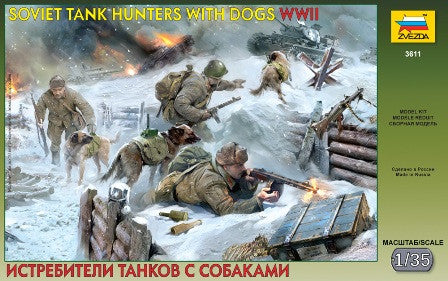 Zvezda Military 1/35 WWII Soviet Tank Hunters w/Dogs (3 ea.) Kit
This Product Usually Ships In 2-3 Business Days
ZVE-3611
---
In 1941 and 1942, a sever shortage of anti-tank weapons forced the Soviet army to take drastic measures to blunt the German advance. The army ordered the training of more than 60,000 dogs in a special program, and equipped them with back bags filled with 2-4 kgs of explosives and an antenna detonator.

The dogs were trained to run under enemy tanks from a short distance away, quickly reaching the dead zone of the tank's machine guns. Tank crews would not have enough time to target such small targets moving quickly. The antenna detonator merely had to brush the metal of the tank before the bomb exploded.

The first battalion of anti-tank dogs reached the front in July, 1941. Over the course of the war, they would be credited with destroying more than 300 German tanks. During the Battle of Stalingrad alone, special troops of the 62nd Army, under Major Kunin and Senior Lieutenant Shantsev, destroyed an entire brigade worth of enemy tanks: 63 tanks and 2 armored cars.

Eventually, the army was supplied with enough anti-tank artillery, and the use of dogs against tanks thankfully reduced. By October, 1943, these troops were disbanded. The surviving dogs were redirected to mine-searching duties.
Includes three unpainted plastic model World War II Soviet soldiers

Three unpainted plastic model dogs equipped with anti-tank bombs.
---
Share this Product
---
More from this collection