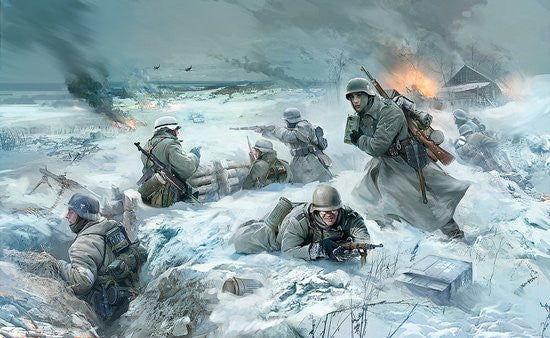 Zvezda Military 1/35 German Infantry Eastern Front Winter 1941-42 (4) Kit
This Product Usually Ships In 2-3 Business Days
ZVE-3627
---
The Russian winter proved to be an unpleasant surprise for the soldier of the German Wehrmacht. Following their invasion of the Soviet Union on June 22nd, 1941, the Germans reached the outskirts of Moscow by September, before their offensive ground to a halt. But some of the fiercest battles of World War II would take place in these western outskirts of Moscow from September 1941 to April 1942.

The climate during this "Winter Campaign" were some of the harshest in memory. The German soldiers were not as well-prepared as their Soviet adversaries, who used the weather to great advantage. As a result, the Winter Campaign was a decisive victory for the Soviets.

The soldiers in this model kit are sculpted in the uniforms common to German soldiers during the winter of 1941-1942.
- Armament: KAR98K rifles x 3, MP38 submachine gun x 1
- Accessories: Gasmasks, water bottles, spades, mine boxes, binoculars
---
Share this Product
---
More from this collection