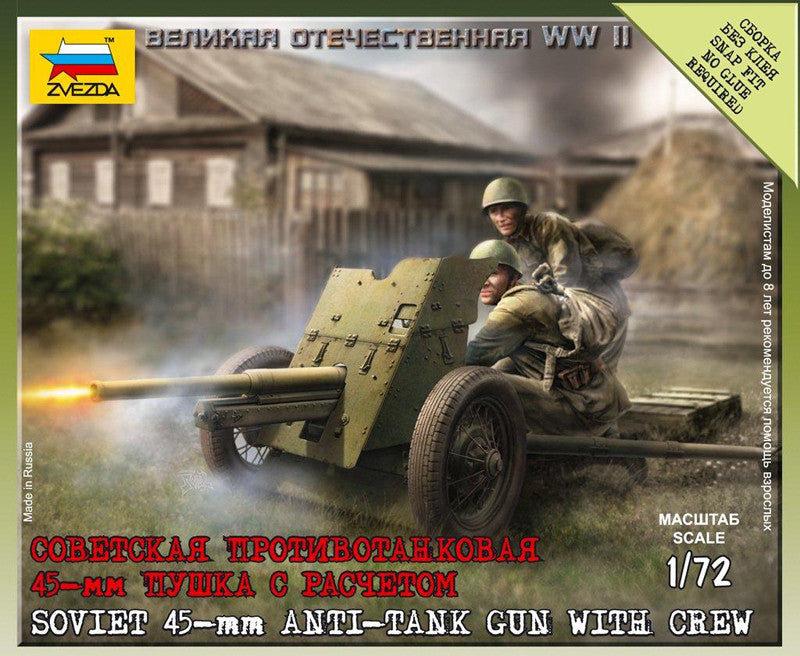 Zvezda Military 1/72 WWII Soviet 45mm Anti-Tank Gun w/2 Crew Snap Kit
This Product Usually Ships In 2-3 Business Days
ZVE-6112
---
The 45mm Anti-tank Gun Model 1937 was the standard anti-tank field piece in the Soviet arsenal at the beginning of the Great Patriotic War. With a relatively quick firing mechanism and a long 45mm barrel, this weapon could fire accurately at distances up to 4 kilometers away. With modifications, it could also be used as an anti-aircraft gun in a pinch, but without a timed fuse and a rate of fire much lower than other AA guns, it served poorly in this role.

The 45mm AtG could fire various kinds of ammunition, including high explosive and fragmentation shells for use against infantry, smoke rounds, and armor-piercing rounds for use against armored vehicles. However, its relatively low penetration power meant that it was really only effective against German light tanks and armored vehicles. Even early versions of the Panzer III were vulnerable only at short range. In 1942, an improved anti-tank gun became available, and production of the 1937 model ceased.
Includes unit flag and unit card for use with the Art of Tactic WWII game.
---
Share this Product
---
More from this collection